Accu-Pak® Blister Packaging
Are you on multiple medications? Tired of wasting time counting pills and separating them into what you take at different times of the day? Not sure what time is best for certain medications or whether your medications are safe to take together? Forgotten to take your medications or took more than the recommended dose?
Our Accu-Pak® blister packs offer a safe, convenient, easy-to-use solution. Each weekly pack is set up to ensure you take each medication on the right day at the right time. Our pharmacists check for drug interactions and update your packs if there has been a drug or dose change. We can also add in your over-the-counter vitamins and supplements, so everything is in one convenient package. And we can advise you and your physician about how best to stop unnecessary medications and supplements. Blister packs make it easy to see at a glance whether you have taken or missed any pills. It is also easier for caregivers, who can be sure they are giving you the right medications.
There is no fee to prepare your medications in blister packs. When you're ready to get started, just bring in your current medications. We'll get you set up right away.
Blood Pressure Management
Do you ever wonder why you are taking so many medications for high blood pressure and whether they are all necessary? You might think that pharmacists simply dispense your hypertension medications, but in fact, pharmacists can do much more than that. At Medicine Shoppe Pharmacy in Courtenay, we provide education about hypertension, guide you in making diet and lifestyle changes, and monitor your blood pressure and heart rate in our clinic consulting room. We can also work with your physician to manage your medication therapy and make recommendations for changes, if appropriate. Working together, we can help you to improve your cardiovascular health. You might even be able to stop taking some of your medications!
If you prefer to monitor your blood pressure at home, we sell a variety of blood pressure monitors that are all certified for accuracy by Hypertension Canada. We'll teach you how and when to take your blood pressure, as well as what the results mean.
We offer a 24-hour ambulatory blood pressure monitor (ABPM) rental service. An ABPM consists of a blood pressure cuff and a portable monitor that you wear for 24 hours. The monitor takes BP measurements every 30 minutes over a 24-hour period as you go about your daily activities, while working, exercising, eating, and sleeping. This gives your physician a complete picture of how your blood pressure changes during these activities and at different times of the day. If you are affected by "white coat syndrome" (when BP measurements are elevated in the physician's office), ABPM can provide more accurate results.
As you should not remove the cuff during the 24-hour monitoring period, please shower or bathe before coming in for your appointment and wear clothing that bares your upper arm or is loose enough to be rolled to the upper arm. A pharmacy team member will fit you with the cuff and provide instructions for use. When you return the following day, we will generate a report of your results and send it directly to your physician. This service requires a prescription and there is a fee for the rental. Call (250) 338-4790 to schedule an appointment.
All pharmacies can prepare compounds, but not all pharmacies are certified to make all compounds, and some pharmacies do not do any compounding at all.
We are proud of the compounding work we do. Through our relationship with Medisca, we have access to high quality chemicals and equipment, as well as an extensive formula database and compounding support. We are experienced at creating topical compounds, such as creams, gels and ointments used for inflammation, pain relief, fungal infections, eczema and other skin conditions.
We also compound some oral solutions, such as those used for pain relief by individuals undergoing radiation or chemotherapy treatments. We are not set up to do sterile compounds such as eye drops, nor do we compound HRT products.
If you have a prescription that requires compounding, please ask us if it is something we can make for you. If it is not, we will refer you to one of the PCCA-certified compounding pharmacies in the Comox Valley that will be able to assist you. Your health is our priority. We will always do what we can to ensure you get the best possible care.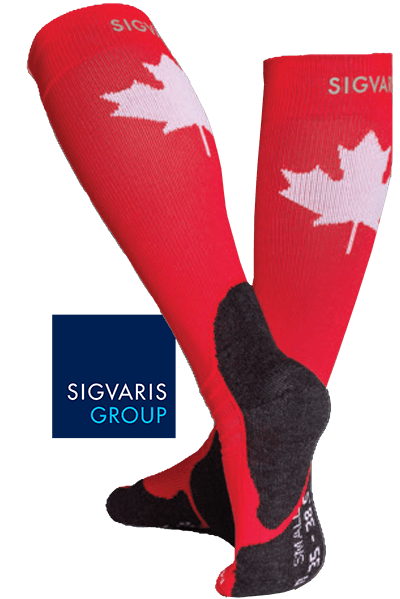 Compression therapy is not just for your grandmother's varicose veins. Today's compression garments are available in contemporary styles and are much more comfortable, yet still meet both non-prescription and medical needs through varying levels of compression. We carry a selection of the most popular compression garments and accessories and are happy to request a special order to get you exactly what you need.
Non-prescription socks and stockings can reduce pain, swelling, heaviness, and muscle stiffness for individuals who will be sitting or standing for much of the day, as well as for pregnant women and travellers. They may also be helpful in muscles recovering from significant activities such as prolonged running.
Medical compression products are specially designed to aid in venous and lymphatic disorders, such as deep vein thrombosis, varicose veins, spider veins, leg ulcers and venous edema. Likelihood of these conditions increases with age and there is often a genetic predisposition, though obesity, a sedentary lifestyle, and pregnancy can also play a role. Your doctor will diagnose your medical condition and prescribe a suitable product with compression to meet your needs. While medical products are more expensive, many third-party plans (e.g., Pacific Blue Cross) will provide coverage.
Our certified compression fitters can help you choose the right product and fit, provide training on how to put on and take off your compression garments, and answer your questions about caring for your compression wear. Call us at (250) 338-4790 to book a fitting appointment or to find out more about how we can help you get the most benefit from compression therapy.
Diabetes Education & Support
Managing diabetes can be a big challenge. A Certified Diabetes Educator (CDE) collaborates with you and your health care team to help you take charge of your diabetes management and reduce the likelihood of future complications. A CDE can provide education on diabetes, medication options, nutrition, and lifestyle choices. For example, we can help you:
Understand how to use diabetes devices, such as insulin pens, blood glucose meters and sensors.
Learn proper injection technique for insulin and other injectable diabetes medications.
Review and interpret your blood glucose results.
Understand the importance of keeping your blood glucose levels within the target range — and how time in range may be more important than A1c!
Adopt healthy eating habits through diabetes-specific nutrition information, meal timing, and weight-loss strategies.
Know how to treat hypoglycemia during physical activity or illness.
Plan for medication changes when fasting for procedures or special holidays (e.g., Ramadan) or when travelling.
Learn about the importance of eye examinations, dental hygiene, skin and foot care.
Maintain a safe, healthy pregnancy when diagnosed with gestational diabetes.
Find out more about accessing funding for certain medications and devices.
Of course, as pharmacists, medications are our specialty, so we will always counsel you on how your medications work, their effectiveness at reducing blood glucose levels, possible side effects, appropriate dosage (including how to adjust your insulin dose), and more. In some cases, we will counsel when you are picking up medications, but if you could benefit from a more in-depth discussion, we are happy to sit down with you at a scheduled time. We can work with you to develop an individualized diabetes management plan that takes into consideration your daily routine, work and family obligations, and any financial concerns.
We are excited to be offering professional foot care services in our clinical consulting room. Paul Kurucz is a Certified Podologist (foot care specialist) who sees patients in our pharmacy every four weeks. Paul's training and expertise includes all areas of foot care, including corns and calluses, fungal and ingrown toenails, plantar fasciitis, Morton's neuroma, diabetic foot ulcers, and much more. Please refer to his website for detailed information.
Appointments should be booked with him directly, by phone at 250-871-2279 or by email.
Our pharmacy may be small, but we carry a wide selection of over-the-counter products, both generic and brand. We have OTC products for pain relief; vitamins and other supplements; digestive aids and probiotics; cough, cold & allergy medications; skin care and hygiene products; compression socks; first aid and wound care; and more. If you are unable to use skin care products with fragrances and other additives, please come in to learn more about the Cerave®, Cetaphil® and Cliniderm® product lines. Several of our private-label products are also available in unscented options. In addition, we stock many items for individuals with diabetes or neuropathy. Talk to our Certified Diabetes Educator if you have questions about how OTC products and supplements may affect your blood sugar levels.
Our private-label products offer the same active ingredients, quality and effectiveness as national brands, at everyday low prices. For even more savings, you can take part in our rewards program. With the Collector Card, every atoma® or Option+ purchase gets you 1 stamp and 10 stamps get you a FREE private-label product valued at up to $15. There's no need to carry another card in your wallet. We'll keep it in store, and after 10 stamps, we'll automatically credit your free item on your next visit.
We can often order in special items and have them available for you within days. Or perhaps you would like to order directly through one of our suppliers and have items shipped directly to your home? This can be a cost-effective way to order ostomy and incontinence supplies, walkers, braces, and other home health care products.* To order through Pharmacy2Home, please go to www.pharmacy2home.ca/ms0414, create your personal account, then use the search box to look for the items you need. Be sure to select Medicine Shoppe Pharmacy #414 in Courtenay as your pharmacy, as doing so allows us to be able to offer you this extra service.
* When you order direct, we are not able to fully advise and counsel you on your purchase. You will receive a receipt from Pharmacy2Home, but it will not be the official tax receipt that you would receive for items purchased by prescription in our pharmacy. If you wish to submit a receipt to a third-party plan (e.g., Pacific Blue Cross) for reimbursement, please check to ensure that the Pharmacy2Home receipt will be sufficient. Please also note that not all products are available through this service and we are not responsible for ordering errors.
A medication review is a personal consultation with your pharmacist, during which we discuss your medication therapy, including prescription drugs, over-the-counter medications, and natural health products you may be taking. We will talk about how you are taking your medications and what they are being used to treat. We also make sure that each medication is safe and effective for you, assess drug allergies and side effects, and determine if there are any drug interactions or other therapeutic concerns. If we identify a drug-related problem (e.g., inability to swallow a large tablet, not taking a medication because of cost concerns, incorrect dose, unnecessary treatment, etc.), we can collaborate with your physician or other health-care provider to resolve the problem. Medication reviews provide a great opportunity for you to ask questions and be actively involved in your health.
In British Columbia, a detailed medication review can be conducted twice per calendar year. If a medication concern is identified, a follow-up review may be scheduled to discuss subsequent medication changes and ensure that the problem has been resolved. At the end of each appointment, you will receive a printed report called a Best Possible Medication History (BPMH) that contains key information about each of your medications. This is a good document to have handy if you do not have a family doctor or will be travelling.
It's easy to book an appointment with our pharmacists. Please visit our booking site to schedule an appointment at a time that's convenient for you, or phone us at (250) 338-4790 if you need assistance.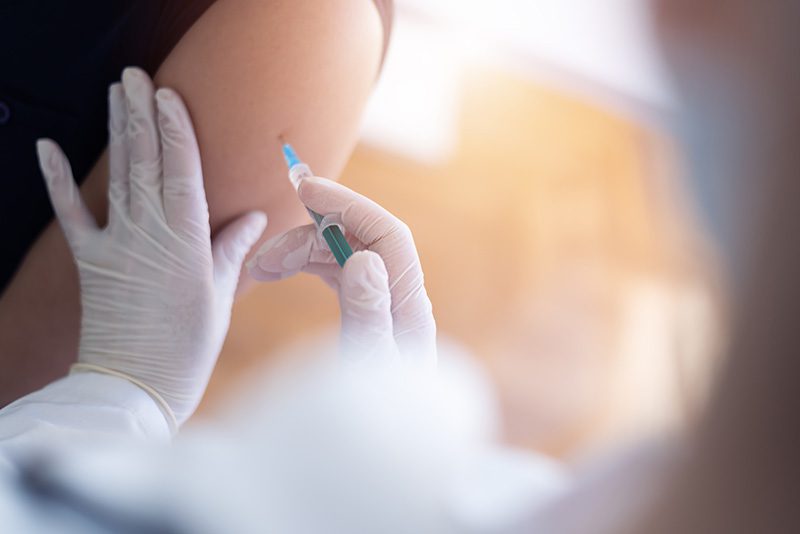 Many people think that once they've had their childhood immunizations, they're done, but there are many vaccines that are recommended for adults, depending on factors including:
Age – As you get older, the protection from some childhood vaccines can wear off, so you may need a booster dose for continued protection. For example, a tetanus booster is recommended for adults every 10 years. And some new vaccines, such as the human papillomavirus (HPV) vaccine, may not have been available to you as a child. Also, your risk for shingles and pneumonia increases as you age.
Job – Adults who work in health care settings are at risk for hepatitis B.
Lifestyle – Adults who have multiple sexual partners are also at risk for hepatitis B.
Health conditions – During pregnancy, it is recommended that women get vaccinated for pertussis (whooping cough) to protect both themselves and their babies. Adults with certain chronic health conditions are at increased risk for pneumococcal disease.
Travel plans – Adults who are travelling internationally may be at risk for diseases we don't see here in Canada. We can help you to determine which vaccines you need for the region where you will be travelling.
Some vaccines, such as the annual flu shot, are publicly funded (free), while others may need to be purchased. Please chat with us about which vaccines are recommended for you and whether they will be covered. A doctor's prescription may be required for some vaccines.
For all other vaccinations, please schedule your appointment using our online booking site or call us at (250) 338-4790.